Special Edition Carrier Bags | Brand Packaging for Links of London
Last Updated on Thursday 12th Oct 2017
Links of London celebrates 25 Years since it started life with a single pair of men's cufflinks. Customers will receive this special edition celebration Links bag produced by Keenpac throughout Autumn/Winter 2015.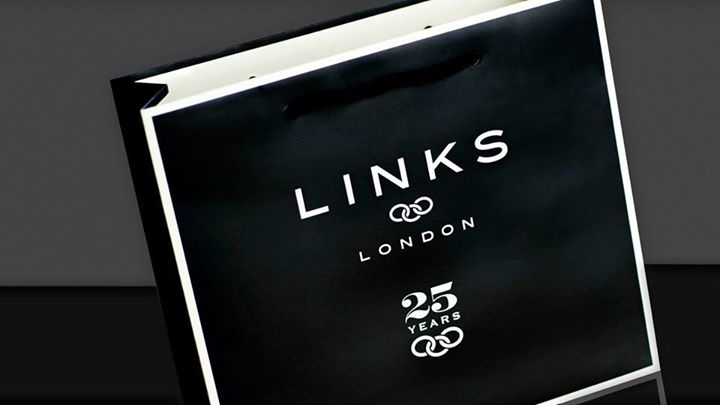 Links of London was founded in 1990 and since the beginning, imaginative design, uncompromising craftsmanship and using the finest materials have remained integral to each new collection, ensuring each piece remains a timeless contemporary classic.
Bespoke Carrier Bags
Our luxury retail paper carrier bags are hand-finished and custom made to your specification. Finishes include matt, satin or gloss lamination, hot-foil blocking, spot UV, blind embossing or debossing. Or for a touch of class and additional impact, choose a combination.
Handles and ribbon closures complete any look, and again the choice is almost limitless. Options include coloured stuffed cotton handles, twill, PP-cord, satin and grosgrain ribbon.
Keenpac are product packaging experts with many years of experience in developing ranges for retail packaging. We provide complete support, helping you through each stage of the development process and taking the utmost care to ensure your vision becomes a perfect reality.
Contact our Retail Packaging Specialists
packaging samples

If you have a retail packaging project you would like to discuss, give us a call, we are always happy to help! 0116 289 0900 or email info@keenpac.co.uk.

independent

You can contact our specialist independent luxury paper bag division  : 0844 826 1737 or email independent@keenpac.co.uk
More Brand Packaging Articles…
Branded Packaging | Biba Clothing Range
Brand Packaging | Luxury Packaging for New Look Savoy
Kendals 175 Years Carrier Hits the Mark with Shoppers
Branded Carrier Bags | New Bags Please!
Branded RPET Shopper | On the 'Bag' Screen
Product Packaging Design | Keenpac gives Rigby & Peller a Perfect Fit
Point of Sale Design | Linking up for the Olympics
Packaging Designers | The Savoy's Tea Shop
Gift Box Design | Lip-Smacking Packaging Sephora
Fashion Packaging | British Fashion Brand, Paul Smith
Personalised Carrier Bags | Packaging created for White Stuff
Retail Gift Boxes | Brand packaging created for l'Artisan Parfumeur
Packaging Designs | Accessorize celebrates their 30th Birthday
Perfume Packaging | Turning a distinctive concept into a packaging reality
Event Packaging | Beautiful Gift Bags for French Open
Eco Packaging Supplier | Timberland Earthkeepers 2014 Fall Collection
Carrier Bag Design | Oasis 'Loved by Mollie' Collection Brand Packaging
Brand Packaging | Coast launch their Spring, Summer Carrier Bag
How Promotional Bags Can Boost Your Brand
Kraft Carrier Bags | Oasis V&A Brand Packaging
Special Edition Carrier Bags | Brand Packaging for Links of London
Carrier Bag Designer | Oasis : Getting Carried Away for Christmas
Brand Packaging Designer | Christmas carriers for Paul Smith
Retail Bags | Magical hat bag complements Benefit Cosmetics launch
Packaging Inspiration | New look for Penhaligon's
Exclusive Packaging Design | Hobbs Sparkles this Christmas
Retail Packaging Suppliers | New bespoke festive bags for House of Fraser
Product Packaging Supplier | British beauty brand Nior London
Personalised Packaging | Luxury Packaging Design for Lani Collection
Brand Packaging Designs | Detox Packaging for Bodyism
Packaging Design Projects | A life-sized Build-A-Bear condo for MCM London Comic Con
Article Categories
Bespoke Packaging
Brand Packaging
Jewellery Packaging
Luxury Packaging
Multi-channel
Online Packaging
Packaging Creative
Packaging Design Ideas
Packaging News
Packaging Solutions
Point of Sale Packaging
Retail Packaging
Sustainable Packaging