Retail Packaging Suppliers | Bespoke festive bags for House of Fraser
Last Updated on Thursday 14th Dec 2017
House of Fraser bags are "Coming For You" this Christmas!
Colourful, bright and extremely fun, the new House of Fraser Christmas packaging has been developed to spread cheer and happiness this festive season. Produced by retail packaging supplier Keenpac, the bags jump out of the crowd with their marble design and slogan "Christmas is Coming for You" – it's clear every shopper will want one!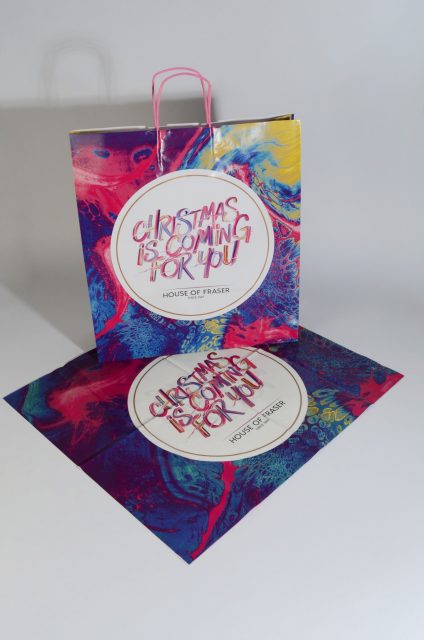 Keenpac has a long-established relationship with House of Fraser and has been supporting the brand with their packaging merchandise for over ten years, with the Christmas carrier bags being the latest project.
House of Fraser's successful Christmas campaign is already in full swing with its own television advertisement currently being aired. The advert sees Christmas creep up on a range of models and dancers, set to music from MOBO-nominated Laura Mvula and her unique sounding cover version of "Ready or Not".
To complement the campaign the new carrier bags had to resonate its messages whilst inviting shoppers to share in the experience and feel a part of the 'party'. The bags were kept simple in terms of design with no added decorations or finishes, allowing the bold branding to speak for itself. The colour scheme for the Christmas packaging was developed around current market trends, incorporating bright colours and metallic, which echo in-store decorations. The slogan "Christmas is Coming For You" is built around the concept that whether you love or hate Christmas, there is no use resisting – the more you embrace it the more fun it is. It's coming so embrace it!
The paper bags have been produced from a clay coated paper which has a smooth surface. This helps to exaggerate the boldness of the colours and adds a slight gloss finish so that they sit well alongside the polythene bags of the same design. The paper bags have been developed in line with House of Frasers' sustainability strategy, being produced from FSC certified paper with water based inks and are fully recyclable. The polythene bags contain up to 30% recycled content and are also fully recyclable.
Dean Healey, Head of Creative – Visual Operations (House of Fraser) said: "This Year's Christmas House of Fraser carrier bags truly do have stand out. Working on the designs this year using our Christmas Festive Marble and Slogan – Christmas is Coming for You, we knew our bags would be seen and have great stand-out on the high street. Using Keenpac's development team and expertise, our bags, both FSC paper and recyclable polythene, have been printed and delivered exactly as per the brief and have helped with the overall creative look and feel for this magical season."
Keenpac's Natalie Gyte, Account Manager for House of Fraser concludes: "Keenpac has loved working on this project for House of Fraser. We soon became consumed in the fun, all-inclusive concept that House of Fraser visualised for their bags and we're extremely happy with the end-product which will now be on full parade on high streets right across the country!"
More Brand Packaging Articles…
Branded Packaging | Biba Clothing Range
Brand Packaging | Luxury Packaging for New Look Savoy
Kendals 175 Years Carrier Hits the Mark with Shoppers
Branded Carrier Bags | New Bags Please!
Branded RPET Shopper | On the 'Bag' Screen
Product Packaging Design | Keenpac gives Rigby & Peller a Perfect Fit
Point of Sale Design | Linking up for the Olympics
Packaging Designers | The Savoy's Tea Shop
Gift Box Design | Lip-Smacking Packaging Sephora
Fashion Packaging | British Fashion Brand, Paul Smith
Personalised Carrier Bags | Packaging created for White Stuff
Retail Gift Boxes | Brand packaging created for l'Artisan Parfumeur
Packaging Designs | Accessorize celebrates their 30th Birthday
Perfume Packaging | Turning a distinctive concept into a packaging reality
Event Packaging | Beautiful Gift Bags for French Open
Eco Packaging Supplier | Timberland Earthkeepers 2014 Fall Collection
Carrier Bag Design | Oasis 'Loved by Mollie' Collection Brand Packaging
Brand Packaging | Coast launch their Spring, Summer Carrier Bag
How Promotional Bags Can Boost Your Brand
Kraft Carrier Bags | Oasis V&A Brand Packaging
Special Edition Carrier Bags | Brand Packaging for Links of London
Carrier Bag Designer | Oasis : Getting Carried Away for Christmas
Brand Packaging Designer | Christmas carriers for Paul Smith
Retail Bags | Magical hat bag complements Benefit Cosmetics launch
Packaging Inspiration | New look for Penhaligon's
Exclusive Packaging Design | Hobbs Sparkles this Christmas
Retail Packaging Suppliers | New bespoke festive bags for House of Fraser
Product Packaging Supplier | British beauty brand Nior London
Personalised Packaging | Luxury Packaging Design for Lani Collection
Brand Packaging Designs | Detox Packaging for Bodyism
Packaging Design Projects | A life-sized Build-A-Bear condo for MCM London Comic Con
Article Categories
Bespoke Packaging
Brand Packaging
Jewellery Packaging
Luxury Packaging
Multi-channel
Online Packaging
Packaging Creative
Packaging Design Ideas
Packaging News
Packaging Solutions
Point of Sale Packaging
Retail Packaging
Sustainable Packaging