Retail Bags | Magical hat bag complements Benefit Cosmetics launch
Last Updated on Wednesday 08th Nov 2017
Launched to spotlight the highly anticipated UK release in June of 13 new brow perfecting products – the largest brow collection to date by the cosmetic company – the bags were produced to be given out to customers on purchase of products from the range.
In developing a design for the bag, Keenpac used Benefit's key marketing statement – magically transforming brows since 1976 – as a theme. On this basis the magic hat bag was created complete with stick-out bunny ears as the bag's handles to represent a magician's 'rabbit out of the hat' trick.
Beyond focusing positive attention on the product launch itself, the unique bags have more than played their part. Fully branded to complement Benefit's exquisite packaging and including the hashtag #benefitbrows, the bag is set to become the most photographed bag on Instagram. The bags are currently on display at Benefit Cosmetics' concessions throughout the UK.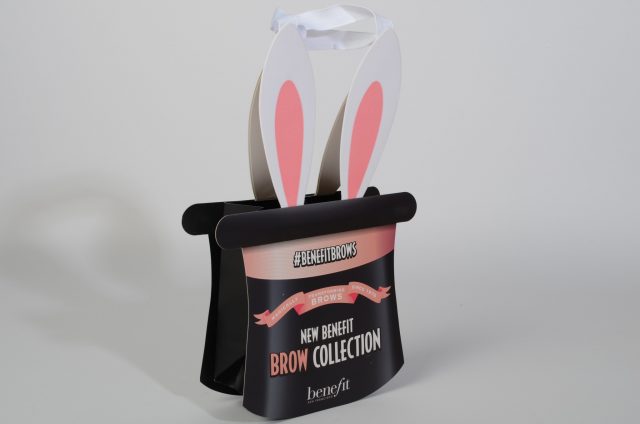 The matt laminated bag itself was constructed from a 350gsm art board for the outer and a lighter weight art paper for the inner. White grosgrain ribbon was used to joins the felt rabbit ears, which were screen printed pink.
As packaging specialists to some of the worlds leading and best known brands, we provide innovative packaging solutions that cover all sectors, including: fashion, cosmetics and beauty, watches and jewellery and on-line retail.
More Brand Packaging Articles…
Branded Packaging | Biba Clothing Range
Brand Packaging | Luxury Packaging for New Look Savoy
Kendals 175 Years Carrier Hits the Mark with Shoppers
Branded Carrier Bags | New Bags Please!
Branded RPET Shopper | On the 'Bag' Screen
Product Packaging Design | Keenpac gives Rigby & Peller a Perfect Fit
Point of Sale Design | Linking up for the Olympics
Packaging Designers | The Savoy's Tea Shop
Gift Box Design | Lip-Smacking Packaging Sephora
Fashion Packaging | British Fashion Brand, Paul Smith
Personalised Carrier Bags | Packaging created for White Stuff
Retail Gift Boxes | Brand packaging created for l'Artisan Parfumeur
Packaging Designs | Accessorize celebrates their 30th Birthday
Perfume Packaging | Turning a distinctive concept into a packaging reality
Event Packaging | Beautiful Gift Bags for French Open
Eco Packaging Supplier | Timberland Earthkeepers 2014 Fall Collection
Carrier Bag Design | Oasis 'Loved by Mollie' Collection Brand Packaging
Brand Packaging | Coast launch their Spring, Summer Carrier Bag
How Promotional Bags Can Boost Your Brand
Kraft Carrier Bags | Oasis V&A Brand Packaging
Special Edition Carrier Bags | Brand Packaging for Links of London
Carrier Bag Designer | Oasis : Getting Carried Away for Christmas
Brand Packaging Designer | Christmas carriers for Paul Smith
Retail Bags | Magical hat bag complements Benefit Cosmetics launch
Packaging Inspiration | New look for Penhaligon's
Exclusive Packaging Design | Hobbs Sparkles this Christmas
Retail Packaging Suppliers | New bespoke festive bags for House of Fraser
Product Packaging Supplier | British beauty brand Nior London
Personalised Packaging | Luxury Packaging Design for Lani Collection
Brand Packaging Designs | Detox Packaging for Bodyism
Packaging Design Projects | A life-sized Build-A-Bear condo for MCM London Comic Con
Article Categories
Bespoke Packaging
Brand Packaging
Jewellery Packaging
Luxury Packaging
Multi-channel
Online Packaging
Packaging Creative
Packaging Design Ideas
Packaging News
Packaging Solutions
Point of Sale Packaging
Retail Packaging
Sustainable Packaging