Recyclable Packaging | Timberland Launches Free Christmas Bag Campaign
Last Updated on Wednesday 13th Dec 2017
Footwear and outdoor clothing specialist Timberland are running a 'free bag' give-away campaign over this festive holiday season.   This recyclable packaging, rPET shopping bags, are produced from recycled plastic bottles and feature images from Timberland's Christmas campaign.  They are being given away free to commuters in the hustle and bustle of the London underground.
Timberland were  introduced to the rPET material when they saw Disney's rPET shopping bag.  Excited by the  print quality as well as the bag's environmental credentials, Timberland were keen to develop their own version.  Around 70,000 will be given away across the capital during the run up until Christmas.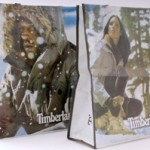 More Sustainable Packaging…
Keenpac Nominated by Disney for Most Sustainable Vendor
Recyclable Packaging | Timberland Launches Free Christmas Bag Campaign
Environmental Standards | Keenpac Achieves 14001 Certification
Bunzl Awarded Carbon Trust Standard
Eco Packaging | Keenpac Voted Disney's Most Sustainable Vendor
Recycled Paper – The Facts
Environmentally Friendly Packaging | Chain of Custody : FSC and PEFC
Green Packaging – How To Maintain Green Ideals in a Cost-Driven Market
Organic Packaging Paper Unveiled …. Anyone For An Olive?
Luxury Packaging and the Sustainability Agenda
Design Solutions To Sustainable Retail Packaging
Sustainable Packaging | Keenpac Meets Musto's Challenge to Source a 100% Recycled Carrier Bag
Sustainable Luxury Packaging | What are Retailers doing?
Packaging Sustainability within Keenpac
Sustainable Packaging Review | Is your packaging as sustainable as it could be?
Article Categories
Bespoke Packaging
Brand Packaging
Jewellery Packaging
Luxury Packaging
Multi-channel
Online Packaging
Packaging Creative
Packaging Design Ideas
Packaging News
Packaging Solutions
Point of Sale Packaging
Retail Packaging
Sustainable Packaging