Product Packaging Supplier | British beauty brand Nior London
Last Updated on Tuesday 21st Feb 2017
Keenpac has recently completed a project for new British skincare brand, Nior London. From an initial website enquiry, and a loose brief for a presentation box, the Keenpac team worked closely with Anika Patel from Nior London to revitalise the brand's marketing merchandise. The final set includes a hand printed retail paper bag, mailing box and rigid presentation gift box with sleeve.
Nior London is the brand-child of beauty entrepreneur Anika Patel. Growing up Anika suffered from a rare skin condition leaving her skin blemished and scarred; with this came a long and tireless effort to find a cream that could help her skin. Leaping from one 'marvel cream' to another Anika was only left disappointed that they were not delivering the results she had hoped for. Together with an expert team of chemists and researchers, Anika embarked upon extensive research, product development and testing to create something truly unique – formulas that work. The result is a revolutionary range of clinically tested products bursting with an abundance of active ingredients that deliver results.
With a successful collection of products, Anika looked to Keenpac to support her in devising luxurious and impactful luxury packaging to enhance the product values and customer experience. In line with brand guidelines, hot foil technique was used throughout the new packaging.
Nior London Hand Finish Paper Bag
The luxury paper retail bag has the gold foil Nior London logo featured on the front of the bag with replicated branding artwork on both side gussets in gold. The luxury paper bag is completed with double faced satin ribbons dyed to match the gold foil pantone, the bag delivers on elegance and style.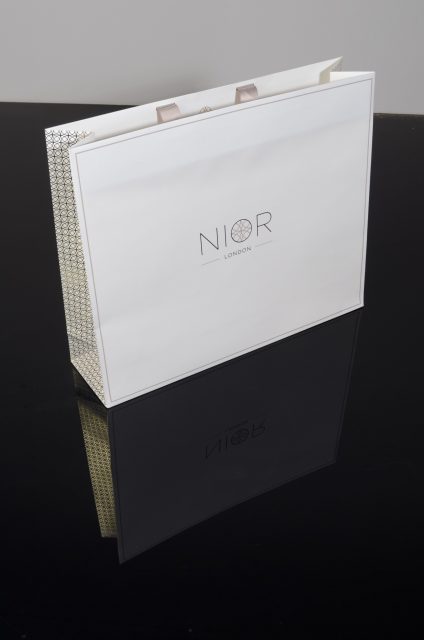 Nior London Mailing Box
The e-commerce box packaging has been manufactured from e-flute/corrugate with white clay coated news and art paper to inner. The Nior London branding has been printed 1 line colour on all sides of the inner including flaps, with the outer of the box left unprinted.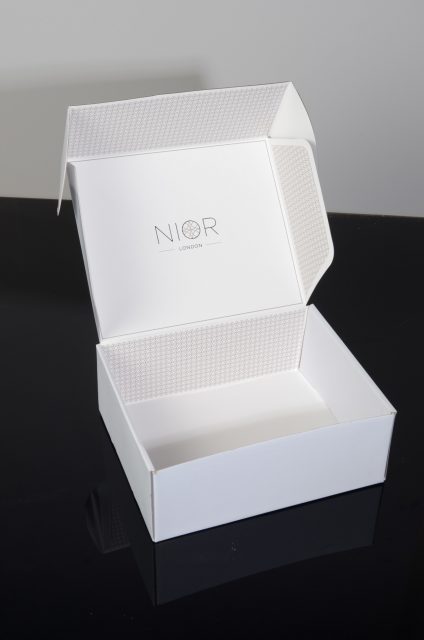 Nior London Presentation Box and Sleeve
The rigid presentation gift box includes a drawer box with ribbon tab pull and card insert. The box is completed with a white card insert to hold 5 miniature beauty products.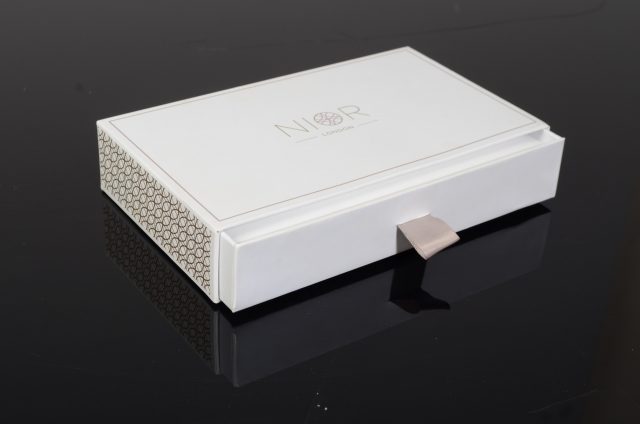 Michelle Franks, Key Account Manager at Keenpac said: "Anika was lovely to work with and understandably very passionate about her brand. It was tremendously exciting to help her with her project and to see it come to life was extremely rewarding. I know Anika will have a very successful future and I look forward to watching her empire grow!"
Anika Patel, Founder and CEO Nior London concludes; "Working with Keenpac has been an absolute pleasure, and it has undoubtedly become the first place to turn to when I have any luxury packaging requirements. I couldn't recommend working with them highly enough! From quality to prices, we are always able to come to an agreement on the best price and finish!"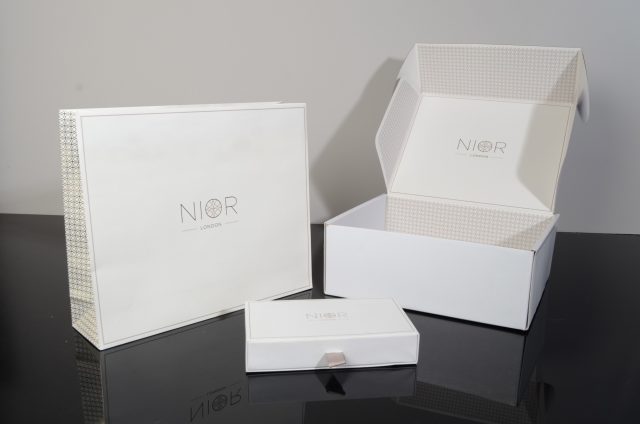 More Brand Packaging Articles…
Branded Packaging | Biba Clothing Range
Brand Packaging | Luxury Packaging for New Look Savoy
Kendals 175 Years Carrier Hits the Mark with Shoppers
Branded Carrier Bags | New Bags Please!
Branded RPET Shopper | On the 'Bag' Screen
Product Packaging Design | Keenpac gives Rigby & Peller a Perfect Fit
Point of Sale Design | Linking up for the Olympics
Packaging Designers | The Savoy's Tea Shop
Gift Box Design | Lip-Smacking Packaging Sephora
Fashion Packaging | British Fashion Brand, Paul Smith
Personalised Carrier Bags | Packaging created for White Stuff
Retail Gift Boxes | Brand packaging created for l'Artisan Parfumeur
Packaging Designs | Accessorize celebrates their 30th Birthday
Perfume Packaging | Turning a distinctive concept into a packaging reality
Event Packaging | Beautiful Gift Bags for French Open
Eco Packaging Supplier | Timberland Earthkeepers 2014 Fall Collection
Carrier Bag Design | Oasis 'Loved by Mollie' Collection Brand Packaging
Brand Packaging | Coast launch their Spring, Summer Carrier Bag
How Promotional Bags Can Boost Your Brand
Kraft Carrier Bags | Oasis V&A Brand Packaging
Special Edition Carrier Bags | Brand Packaging for Links of London
Carrier Bag Designer | Oasis : Getting Carried Away for Christmas
Brand Packaging Designer | Christmas carriers for Paul Smith
Retail Bags | Magical hat bag complements Benefit Cosmetics launch
Packaging Inspiration | New look for Penhaligon's
Exclusive Packaging Design | Hobbs Sparkles this Christmas
Retail Packaging Suppliers | New bespoke festive bags for House of Fraser
Product Packaging Supplier | British beauty brand Nior London
Personalised Packaging | Luxury Packaging Design for Lani Collection
Brand Packaging Designs | Detox Packaging for Bodyism
Packaging Design Projects | A life-sized Build-A-Bear condo for MCM London Comic Con
Article Categories
Bespoke Packaging
Brand Packaging
Jewellery Packaging
Luxury Packaging
Multi-channel
Online Packaging
Packaging Creative
Packaging Design Ideas
Packaging News
Packaging Solutions
Point of Sale Packaging
Retail Packaging
Sustainable Packaging