Product Packaging Design | Keenpac gives Rigby & Peller a Perfect Fit
Last Updated on Monday 06th Feb 2017
Keenpac is pleased to announce the launch of an exciting new five-piece packaging range for Royal Corsetiere Rigby & Peller!   The new look, which was developed as part of the company's desire to appeal to a wider audience, will launch shortly – just in time for Valentine's day.
The brief for the packaging was to be cutting – edge and yet without losing the classic couture feel for which Rigby & Peller are known.   The company, which was established during the 1930s, by Mrs Rigby and Mrs Peller, has the Royal Warrant to make lingerie for the Royal family, an accolade of which it is rightly very proud.
So, although the new packaging design needed to make a dramatic shift away from its traditional burgundy colour  in order to attract a slightly younger target market, it had to retain the same prestigious feel befitting of its exquisite lingerie, and of course its royal clientele.
The result – a classic black ribbed, embossed paper, together with Rigby & Peller's crested logo, emblazoned in gold foil to create the perfect blend of classic and modern.
The new range consists of large and medium carriers, gift card box, as well as medium and large lingerie boxes –  all created to fit perfectly, the dimensions of the garments they were designed to hold.
Said Caroline Noble, Marketing Manager, and  project manager on the packaging relaunch;
"Keenpac has supported our packaging needs for a couple of years now and their friendly team has been flexible and accommodating throughout.  Rigby & Peller are very excited about the launch of our new range of carrier bags and gift boxes in 2012 which Keenpac have helped us to develop and we look forward to a long and fruitful partnership."
As to what the Queen thinks of the new packaging….our lips are sealed!
Rigby & Peller will be appearing at London Fashion Weekend 23rd – 26th February 2012.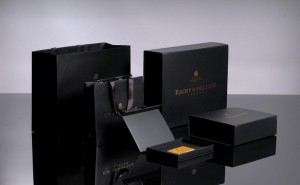 More Brand Packaging Articles…
Branded Packaging | Biba Clothing Range
Brand Packaging | Luxury Packaging for New Look Savoy
Kendals 175 Years Carrier Hits the Mark with Shoppers
Branded Carrier Bags | New Bags Please!
Product Packaging Design | Keenpac gives Rigby & Peller a Perfect Fit
Point of Sale Design | Linking up for the Olympics
Packaging Designers | The Savoy's Tea Shop
Gift Box Design | Lip-Smacking Packaging Sephora
Fashion Packaging | British Fashion Brand, Paul Smith
Personalised Carrier Bags | Packaging created for White Stuff
Retail Gift Boxes | Brand packaging created for l'Artisan Parfumeur
Packaging Designs | Accessorize celebrates their 30th Birthday
Perfume Packaging | Turning a distinctive concept into a packaging reality
Event Packaging | Beautiful Gift Bags for French Open
Eco Packaging Supplier | Timberland Earthkeepers 2014 Fall Collection
Carrier Bag Design | Oasis 'Loved by Mollie' Collection Brand Packaging
Brand Packaging | Coast launch their Spring, Summer Carrier Bag
How Promotional Bags Can Boost Your Brand
Kraft Carrier Bags | Oasis V&A Brand Packaging
Special Edition Carrier Bags | Brand Packaging for Links of London
Carrier Bag Designer | Oasis : Getting Carried Away for Christmas
Brand Packaging Designer | Christmas carriers for Paul Smith
Retail Bags | Magical hat bag complements Benefit Cosmetics launch
Packaging Inspiration | New look for Penhaligon's
Exclusive Packaging Design | Hobbs Sparkles this Christmas
Retail Packaging Suppliers | New bespoke festive bags for House of Fraser
Product Packaging Supplier | British beauty brand Nior London
Personalised Packaging | Luxury Packaging Design for Lani Collection
Brand Packaging Designs | Detox Packaging for Bodyism
Packaging Design Projects | A life-sized Build-A-Bear condo for MCM London Comic Con
Article Categories
Bespoke Packaging
Brand Packaging
Jewellery Packaging
Luxury Packaging
Multi-channel
Online Packaging
Packaging Creative
Packaging Design Ideas
Packaging News
Packaging Solutions
Point of Sale Packaging
Retail Packaging
Sustainable Packaging