Personalised Carrier Bags | Packaging created for White Stuff
Last Updated on Tuesday 07th Feb 2017
Keenpac started working with White Stuff back in December 2014, just ahead of the busiest time of year! The full packaging range included these four kraft paper carriers, as well swing tags, tissue and stickers. Just for Christmas we also created a natural ribbed kraft gift box, with additional belly band to give it its seasonal touch. The plain gift box can now be used year round, with different sleeves created to add that seasonal touch.
Kraft Paper Carrier Bags
Machine made Kraft paper bags offer a cost-effective alternative to luxury carrier bags. Also known as SOS (self-opening satchel) bags, they retain a luxurious feel but generally involve lower costs due to being made by machine.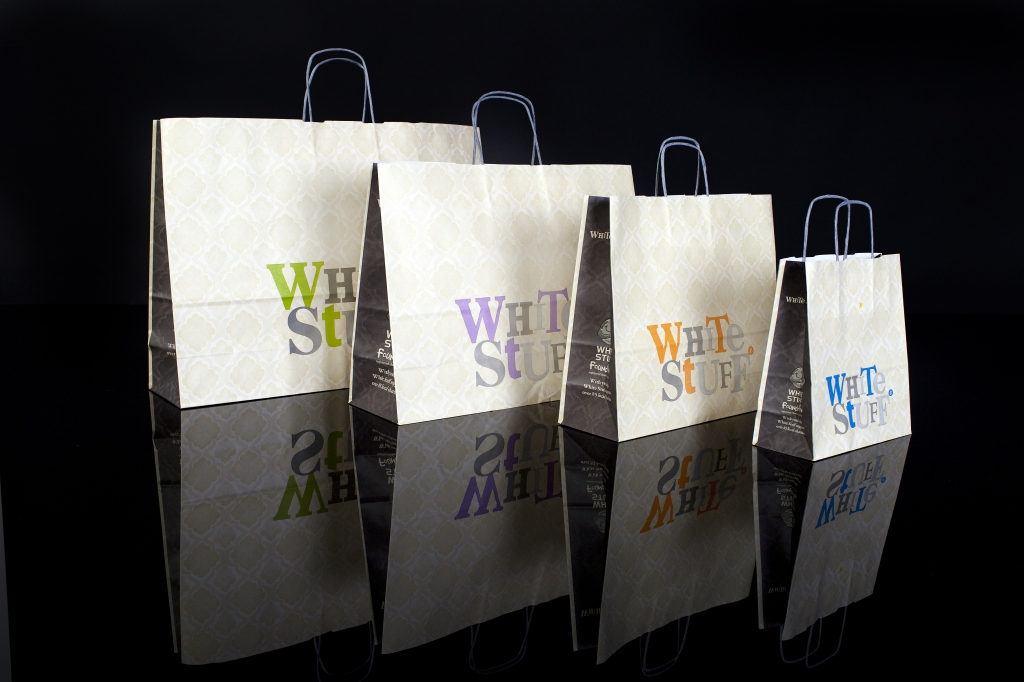 Many of our retailers use Kraft paper bags for their outlet or sale bags because they look great, they're strong and they're cost-effective. They're also environmentally friendly. Kraft bags can be fully recyclable and, when printed with vegetable inks on sustainable papers, offer a truly green option.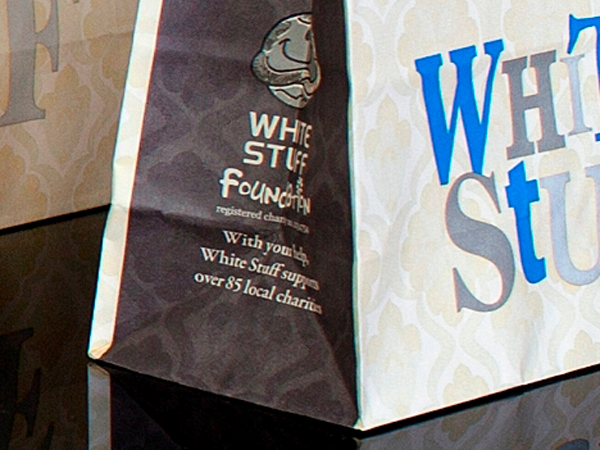 White Stuff is a modern fashion and lifestyle brand, retailing women's and men's clothing and accessories in stores throughout the UK.  The brand was first established back in 1985 by skiing pair George Treves and Sean Thomas who created their 'Boys from the White Stuff' T-shirts in order to subsidise their love of skiing.
Now in 2014, White Stuff has evolved into a modern lifestyle brand, selling a wide range of women's, men's clothing and accessories, as well as goods for the home.
Find one of their Stores : 
www.whitestuff.com/page/storelocator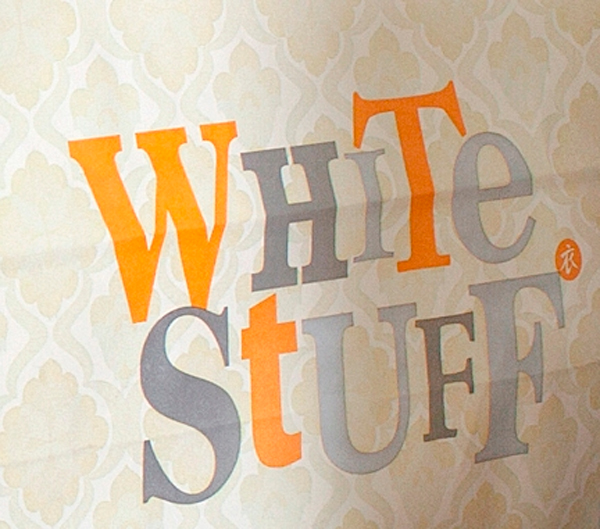 If you would like to see samples or talk to us about your Kraft paper bags, please give us a call on 0116 289 0900 or email info@keenpac.co.uk.
More Brand Packaging Articles…
Branded Packaging | Biba Clothing Range
Brand Packaging | Luxury Packaging for New Look Savoy
Kendals 175 Years Carrier Hits the Mark with Shoppers
Branded Carrier Bags | New Bags Please!
Branded RPET Shopper | On the 'Bag' Screen
Product Packaging Design | Keenpac gives Rigby & Peller a Perfect Fit
Point of Sale Design | Linking up for the Olympics
Packaging Designers | The Savoy's Tea Shop
Gift Box Design | Lip-Smacking Packaging Sephora
Fashion Packaging | British Fashion Brand, Paul Smith
Personalised Carrier Bags | Packaging created for White Stuff
Retail Gift Boxes | Brand packaging created for l'Artisan Parfumeur
Packaging Designs | Accessorize celebrates their 30th Birthday
Perfume Packaging | Turning a distinctive concept into a packaging reality
Event Packaging | Beautiful Gift Bags for French Open
Eco Packaging Supplier | Timberland Earthkeepers 2014 Fall Collection
Carrier Bag Design | Oasis 'Loved by Mollie' Collection Brand Packaging
Brand Packaging | Coast launch their Spring, Summer Carrier Bag
How Promotional Bags Can Boost Your Brand
Kraft Carrier Bags | Oasis V&A Brand Packaging
Special Edition Carrier Bags | Brand Packaging for Links of London
Carrier Bag Designer | Oasis : Getting Carried Away for Christmas
Brand Packaging Designer | Christmas carriers for Paul Smith
Retail Bags | Magical hat bag complements Benefit Cosmetics launch
Packaging Inspiration | New look for Penhaligon's
Exclusive Packaging Design | Hobbs Sparkles this Christmas
Retail Packaging Suppliers | New bespoke festive bags for House of Fraser
Product Packaging Supplier | British beauty brand Nior London
Personalised Packaging | Luxury Packaging Design for Lani Collection
Brand Packaging Designs | Detox Packaging for Bodyism
Packaging Design Projects | A life-sized Build-A-Bear condo for MCM London Comic Con
Article Categories
Bespoke Packaging
Brand Packaging
Jewellery Packaging
Luxury Packaging
Multi-channel
Online Packaging
Packaging Creative
Packaging Design Ideas
Packaging News
Packaging Solutions
Point of Sale Packaging
Retail Packaging
Sustainable Packaging