Keenpac Creates the Italian Job
Last Updated on Thursday 31st Aug 2017
Working closely with Keenpac's Creative Team in the UK, Keenpac Italy has developed a stunning range of products for leading Azerbaijan fashion retailer Sinteks.  As suppliers to Sinteks over the last four years, Keenpac Italia was approached to develop something special for the launch of their brand new Emporium store which opened this summer.
With this is mind, the team from Keenpac Creative set to work developing a series of exciting new concepts for the range.  Created by Verity Massey, one of Keenpac's Graphic Designers, the finalised design featured a beautiful floral pattern, subtly embossed into a luxurious ivory paper, hot foiled with a matt silver Emporium logo and completed with matching grosgrain handles in ivory.   Left unprinted, and with just a hint of the floral design in the background, the effect is both simple and elegant.
To achieve the finished result, a special metal embossing roll had to be made from the floral pattern which is now unique to Emporium.  The full range, all finished with the same beautifully embossed pattern, includes luxury carrier bags,  two-piece flat packed box, and a large gift envelope.
The project which took almost a year from initial brief to completion, is a great example of the Keenpac teams from across Europe, working together to create some amazing results!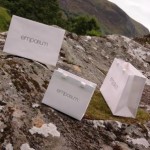 More Packaging News…
Keenpac upgrade their warehouse lighting
Keenpac supports students on the Fashion Buying Degree at De Montfort University…
Keenpac fundraise for Loros Hospice
Donating unwanted office furniture to local Academy
LOROS fundraising by the Keenpac team
David Kerr : The man who holds the key to Keenpac's packaging product samples
The Law of Unintended Consequences and Plastic Bag Levy
Brand New Keenpac
Keenpac Reveal Results of Brand Refresh
Article Categories
Bespoke Packaging
Brand Packaging
Jewellery Packaging
Luxury Packaging
Multi-channel
Online Packaging
Packaging Creative
Packaging Design Ideas
Packaging News
Packaging Solutions
Point of Sale Packaging
Retail Packaging
Sustainable Packaging