Packaging Inspiration | New look for Penhaligon's
Last Updated on Saturday 25th Nov 2017
Keenpac worked closely with Penhaligon's packaging-development team to create a simple, silvery gold mother of pearl, tortoise-shell effect for the packaging of their latest eau de toilette, Luna. The concept for the new floral fragrance is taken from the mythical love story between the Ancient Greek goddess of the moon and her lover Endymion.
Penhaligon's was founded in 1870 by Englishman William Penhaligon, who opened a barber shop on Jermyn Street and created original perfumes made with fine, rare ingredients for a sophisticated clientele in the decadent Victorian era. The luxury British perfume house offers a wide range of luxury fragrances online for women and men, as well as gifts, scented candles and grooming products.
To create the intricate pattern on the outside of the packaging, a mother of pearl tile was scanned and printed to produce the desired effect. In addition to the print, the finishes used included a white gloss laminate, gun metal for the foil on the lid and base and the lip and inner being made from a foam base. The design is fitted with a magnet closure within the lip for easy opening and closing.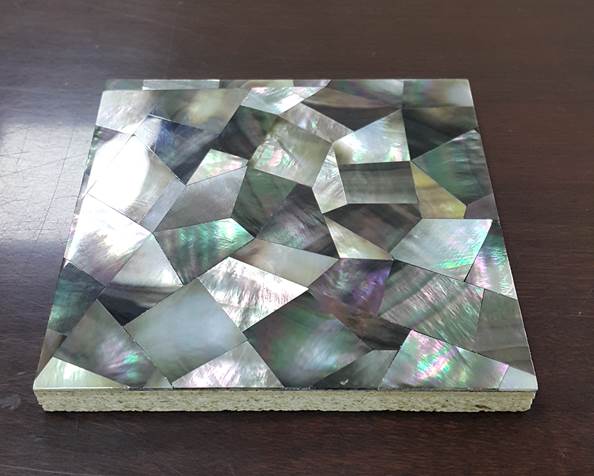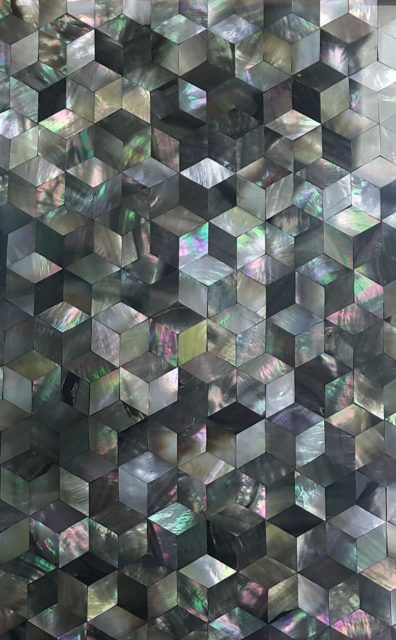 Account manager David Jenkins said: "We love working with Penhaligon's on their complex and beautiful packaging. For Luna we couldn't find the perfect material so we made it ourselves and finished up with a stunning fragrance pack."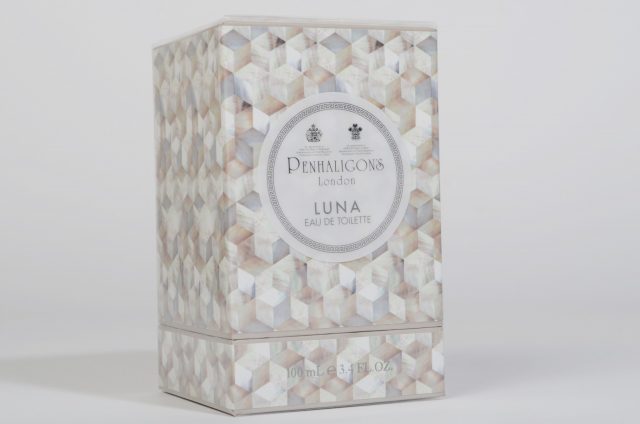 More Brand Packaging Articles…
Branded Packaging | Biba Clothing Range
Brand Packaging | Luxury Packaging for New Look Savoy
Kendals 175 Years Carrier Hits the Mark with Shoppers
Branded Carrier Bags | New Bags Please!
Branded RPET Shopper | On the 'Bag' Screen
Product Packaging Design | Keenpac gives Rigby & Peller a Perfect Fit
Point of Sale Design | Linking up for the Olympics
Packaging Designers | The Savoy's Tea Shop
Gift Box Design | Lip-Smacking Packaging Sephora
Fashion Packaging | British Fashion Brand, Paul Smith
Personalised Carrier Bags | Packaging created for White Stuff
Retail Gift Boxes | Brand packaging created for l'Artisan Parfumeur
Packaging Designs | Accessorize celebrates their 30th Birthday
Perfume Packaging | Turning a distinctive concept into a packaging reality
Event Packaging | Beautiful Gift Bags for French Open
Eco Packaging Supplier | Timberland Earthkeepers 2014 Fall Collection
Carrier Bag Design | Oasis 'Loved by Mollie' Collection Brand Packaging
Brand Packaging | Coast launch their Spring, Summer Carrier Bag
How Promotional Bags Can Boost Your Brand
Kraft Carrier Bags | Oasis V&A Brand Packaging
Special Edition Carrier Bags | Brand Packaging for Links of London
Carrier Bag Designer | Oasis : Getting Carried Away for Christmas
Brand Packaging Designer | Christmas carriers for Paul Smith
Retail Bags | Magical hat bag complements Benefit Cosmetics launch
Packaging Inspiration | New look for Penhaligon's
Exclusive Packaging Design | Hobbs Sparkles this Christmas
Retail Packaging Suppliers | New bespoke festive bags for House of Fraser
Product Packaging Supplier | British beauty brand Nior London
Personalised Packaging | Luxury Packaging Design for Lani Collection
Brand Packaging Designs | Detox Packaging for Bodyism
Packaging Design Projects | A life-sized Build-A-Bear condo for MCM London Comic Con
Article Categories
Bespoke Packaging
Brand Packaging
Jewellery Packaging
Luxury Packaging
Multi-channel
Online Packaging
Packaging Creative
Packaging Design Ideas
Packaging News
Packaging Solutions
Point of Sale Packaging
Retail Packaging
Sustainable Packaging