Packaging Designers | The Savoy's Tea Shop
Last Updated on Wednesday 15th Nov 2017
The Savoy, located on the river Thames between Mayfair and the city of London, reopened in 2010 after a £100 million restoration. Its conception, design and craft continues to dazzle the present with its inspirations of the past and visions of the future.
The Savoy Tea Shop provides a chance for guest and visitors to purchase and take home a small slice of this world famous brand.
The Savoy Shop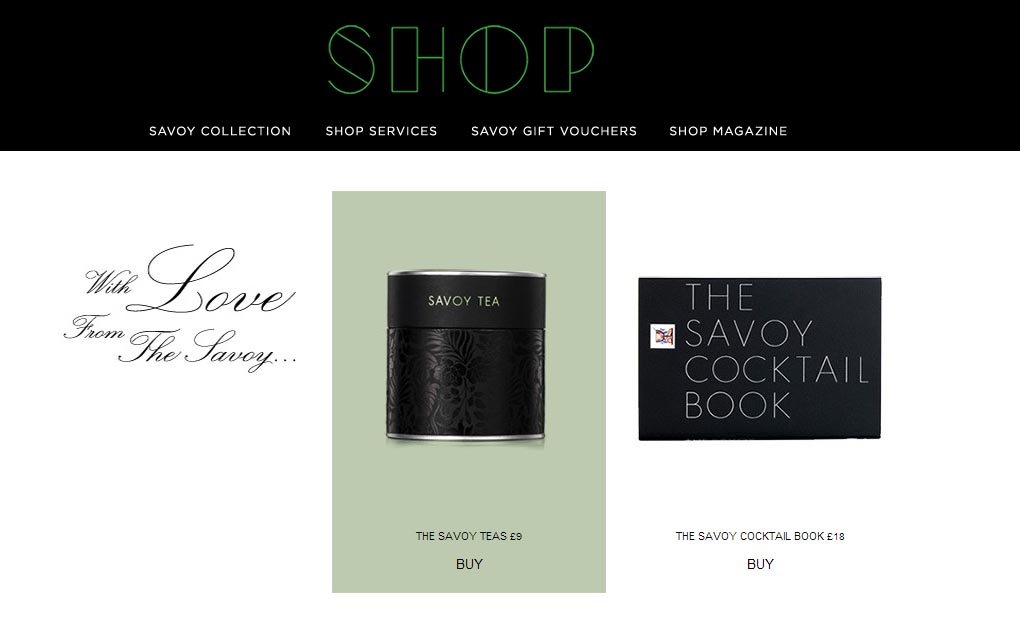 Savoy's Tea Shop Packaging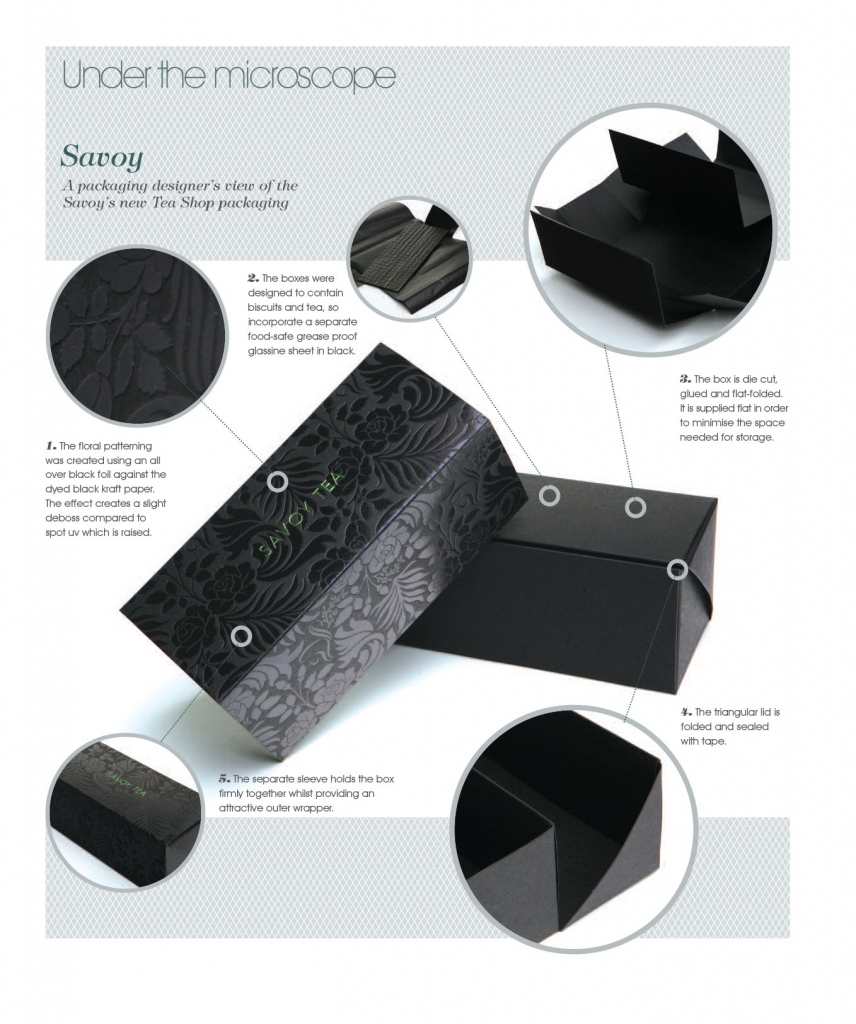 1. The floral patterning was picked out with black foil, against the matt black kraft paper.
2. The boxes were designed to contain biscuits and tea, so incorporate a separate food-safe glassine paper in black.
3. The box is die-cut, glued and flat-folded. It is supplied flat in order to minimise the space needed for storage.
4. The triangular lid is folded and sealed with tape.
5. The separate sleeve holds the box firmly together whilst providing an attractive outer wrapper.
---
Retail Gift Boxes & Jewellery Packaging News

The Most Complex Form of Retail Packaging – The Jewellery Box
As one of the most luxurious forms of retail packaging, jewellery boxes can be a dark art to all but a few. We spoke to Keenpac's resident jewellery box expert, Dean Callier on just what makes a quality jewellery box.
---
Revel in the Reveal – The Art of Luxury Gift Packaging
Anticipation is the name of the game. When consumers buy luxury goods, they can often pay significant sums of money for them. So how best can luxury retailers give their consumers added value and ensure that every luxury purchase is giving as much as possible? It's all in the 'reveal'.
---
Bespoke retail gift boxes
Boxes can be created in a variety of ways to suit their use and the budget. Flat-packed, rigid, hinged, wooden and even metal boxes are all available. They can be wrapped inside and out, with an enticing selection of exquisite materials ranging from embossed and printed papers through to leather and suede, and finished with embossing, printing, varnish and hot-foil. Or, for serious impact, a combination of the above!
---
More Brand Packaging Articles…
Branded Packaging | Biba Clothing Range
Brand Packaging | Luxury Packaging for New Look Savoy
Kendals 175 Years Carrier Hits the Mark with Shoppers
Branded Carrier Bags | New Bags Please!
Branded RPET Shopper | On the 'Bag' Screen
Product Packaging Design | Keenpac gives Rigby & Peller a Perfect Fit
Point of Sale Design | Linking up for the Olympics
Packaging Designers | The Savoy's Tea Shop
Gift Box Design | Lip-Smacking Packaging Sephora
Fashion Packaging | British Fashion Brand, Paul Smith
Personalised Carrier Bags | Packaging created for White Stuff
Retail Gift Boxes | Brand packaging created for l'Artisan Parfumeur
Packaging Designs | Accessorize celebrates their 30th Birthday
Perfume Packaging | Turning a distinctive concept into a packaging reality
Event Packaging | Beautiful Gift Bags for French Open
Eco Packaging Supplier | Timberland Earthkeepers 2014 Fall Collection
Carrier Bag Design | Oasis 'Loved by Mollie' Collection Brand Packaging
Brand Packaging | Coast launch their Spring, Summer Carrier Bag
How Promotional Bags Can Boost Your Brand
Kraft Carrier Bags | Oasis V&A Brand Packaging
Special Edition Carrier Bags | Brand Packaging for Links of London
Carrier Bag Designer | Oasis : Getting Carried Away for Christmas
Brand Packaging Designer | Christmas carriers for Paul Smith
Retail Bags | Magical hat bag complements Benefit Cosmetics launch
Packaging Inspiration | New look for Penhaligon's
Exclusive Packaging Design | Hobbs Sparkles this Christmas
Retail Packaging Suppliers | New bespoke festive bags for House of Fraser
Product Packaging Supplier | British beauty brand Nior London
Personalised Packaging | Luxury Packaging Design for Lani Collection
Brand Packaging Designs | Detox Packaging for Bodyism
Packaging Design Projects | A life-sized Build-A-Bear condo for MCM London Comic Con
Article Categories
Bespoke Packaging
Brand Packaging
Jewellery Packaging
Luxury Packaging
Multi-channel
Online Packaging
Packaging Creative
Packaging Design Ideas
Packaging News
Packaging Solutions
Point of Sale Packaging
Retail Packaging
Sustainable Packaging