Brand Packaging | Luxury Packaging for New Look Savoy
Last Updated on Tuesday 10th Oct 2017
When the Savoy reopened its doors on 10th October after a £220m refit, its brand new tea shop was sporting a beautiful new range of luxury packaging produced by Keenpac.
The Savoy is one of London's most prestigious hotels. Opened by Richard D'Oyly Caret in 1889, it has been graced by many of the world's rich and famous (Marilyn Monroe, Errol Flynn, Marlon Brando, Marlene Dietrich and Sophia Loren have all been guests) and is known for its style and opulence – London's first luxury hotel.
The hotel closed its doors in 2007, and now after its refit, has been brought up to date without sacrificing its Edwardian and art deco charm. The new tea shop packaging fits its surroundings perfectly. The range includes boxes for both luxury biscuits and chocolates. It is simple and stylish in black and white, and yet with a subtle use of clear foiling to pick out its beautiful floral patterns, maintains a feeling of old world opulence that could only be associated with The Savoy.
The overall effect is further enhanced through the use of green foil to depict the Savoy logo against a matt black printed kraft paper, along with concealed magnetic closures that are the ultimate in luxury packaging. The entire packaging project took just over a year, undergoing several stages of development and sampling to get finishes and mechanisms working perfectly. The final results are stunning and reflect entirely, the attention to detail,  the vision and the ambition of this unique restoration project.
For more information and samples, contact Keenpac on 0116 289 0900.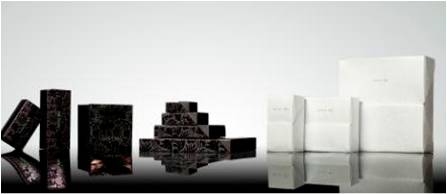 More Brand Packaging Articles…
Branded Packaging | Biba Clothing Range
Brand Packaging | Luxury Packaging for New Look Savoy
Kendals 175 Years Carrier Hits the Mark with Shoppers
Branded Carrier Bags | New Bags Please!
Product Packaging Design | Keenpac gives Rigby & Peller a Perfect Fit
Point of Sale Design | Linking up for the Olympics
Packaging Designers | The Savoy's Tea Shop
Gift Box Design | Lip-Smacking Packaging Sephora
Fashion Packaging | British Fashion Brand, Paul Smith
Personalised Carrier Bags | Packaging created for White Stuff
Retail Gift Boxes | Brand packaging created for l'Artisan Parfumeur
Packaging Designs | Accessorize celebrates their 30th Birthday
Perfume Packaging | Turning a distinctive concept into a packaging reality
Event Packaging | Beautiful Gift Bags for French Open
Eco Packaging Supplier | Timberland Earthkeepers 2014 Fall Collection
Carrier Bag Design | Oasis 'Loved by Mollie' Collection Brand Packaging
Brand Packaging | Coast launch their Spring, Summer Carrier Bag
How Promotional Bags Can Boost Your Brand
Kraft Carrier Bags | Oasis V&A Brand Packaging
Special Edition Carrier Bags | Brand Packaging for Links of London
Carrier Bag Designer | Oasis : Getting Carried Away for Christmas
Brand Packaging Designer | Christmas carriers for Paul Smith
Retail Bags | Magical hat bag complements Benefit Cosmetics launch
Packaging Inspiration | New look for Penhaligon's
Exclusive Packaging Design | Hobbs Sparkles this Christmas
Retail Packaging Suppliers | New bespoke festive bags for House of Fraser
Product Packaging Supplier | British beauty brand Nior London
Personalised Packaging | Luxury Packaging Design for Lani Collection
Brand Packaging Designs | Detox Packaging for Bodyism
Packaging Design Projects | A life-sized Build-A-Bear condo for MCM London Comic Con
Article Categories
Bespoke Packaging
Brand Packaging
Jewellery Packaging
Luxury Packaging
Multi-channel
Online Packaging
Packaging Creative
Packaging Design Ideas
Packaging News
Packaging Solutions
Point of Sale Packaging
Retail Packaging
Sustainable Packaging