New Lunchbox Design for National Trust
Last Updated on Friday 10th Mar 2017
Keenpac has teamed up with Bunzl Catering, to design and develop a brand new concept for a new children's carrier-style lunchbox for the National Trust.  The carrier will replace the current cardboard lunch boxes currently used in their restaurants and cafes.
Bunzl Catering are already suppliers to The National Trust, for their core range. However, since the new lunchboxes were bespoke, Keenpac was invited on board to help out with design and development.
On receipt of the brief, Keenpac's packaging designer, Pete Nicholls, set about creating prototype samples. The National Trust were delighted with the concepts and proceeded with the order.
The result – a stunning novelty range of colourful, fruit-themed lunch bags depicting tomatoes, apples and oranges.  They're fun, healthy and sure to be a hit with children and families across the UK!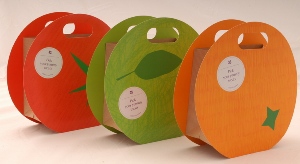 For further details, contact Doreen Widdows on 0116 289 0900, or via info@keenpac.co.uk
More Packaging News…
Keenpac upgrade their warehouse lighting
Keenpac supports students on the Fashion Buying Degree at De Montfort University…
Keenpac fundraise for Loros Hospice
Donating unwanted office furniture to local Academy
LOROS fundraising by the Keenpac team
David Kerr : The man who holds the key to Keenpac's packaging product samples
The Law of Unintended Consequences and Plastic Bag Levy
Brand New Keenpac
Keenpac Reveal Results of Brand Refresh
Article Categories
Bespoke Packaging
Brand Packaging
Jewellery Packaging
Luxury Packaging
Multi-channel
Online Packaging
Packaging Creative
Packaging Design Ideas
Packaging News
Packaging Solutions
Point of Sale Packaging
Retail Packaging
Sustainable Packaging