Keenpac wins the Bunzl Cup!!
Last Updated on Wednesday 12th Aug 2015
Congratulations to team Keenpac, valiant winners of the Bunzl Cup held last Saturday, 10th August, at Star City Birmingham. It's an annual 5-a-side tournament, in which teams from Bunzl companies across the UK & Ireland battle it out to win the coveted trophy.
This year's Keenpac team, which included Team Captain David Kerr, Shaun Murney, and Jason Brown, put on a stunning performance. Leading the way in the league,after playing (and winning) three back-to-back matches,they then went on to their quarter and semi-finals to take them into the competition final.  A 2-1 victory over the Bunzl team from NSS finally secured the trophy, which is now winging its way to Leicester.
Said Mr Kerr of their final win;  "After 6 years of hurt, this was our time to shine.  Some great football was played, along with some very hard work and a great team spirit throughout the day…'
Were there any memorable moments?   "The semi-final against Agecroft –  a fantastic through-ball from Shaun Murney to player Manager David Kerr, who slotted a neat finish to make it 3-2 and book Keenpac's place in the final for the very first time!"
It was a great day for everyone across the group – and well done team Keenpac on securing their first trophy.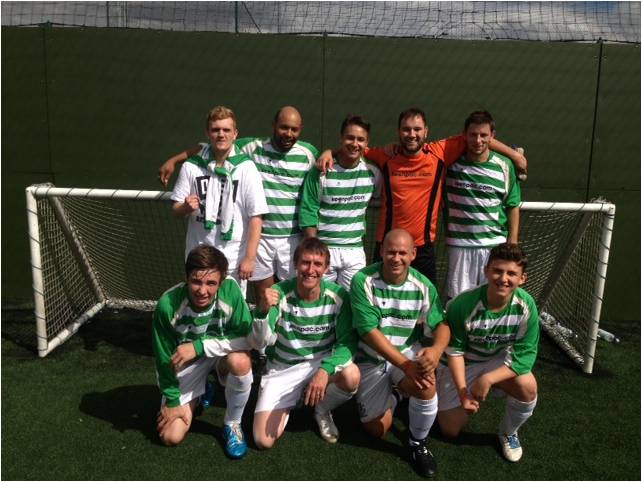 More Packaging News…
Keenpac upgrade their warehouse lighting
Keenpac supports students on the Fashion Buying Degree at De Montfort University…
Keenpac fundraise for Loros Hospice
Donating unwanted office furniture to local Academy
LOROS fundraising by the Keenpac team
David Kerr : The man who holds the key to Keenpac's packaging product samples
The Law of Unintended Consequences and Plastic Bag Levy
Brand New Keenpac
Keenpac Reveal Results of Brand Refresh
Article Categories
Bespoke Packaging
Brand Packaging
Jewellery Packaging
Luxury Packaging
Multi-channel
Online Packaging
Packaging Creative
Packaging Design Ideas
Packaging News
Packaging Solutions
Point of Sale Packaging
Retail Packaging
Sustainable Packaging