Keenpac descend on Birmingham for PRIDE event
Last Updated on Monday 14th Nov 2016
As part of our PRIDE activities scheduled throughout the year (PRIDE represents our core values, based on the acronym Passionate about Packaging, Respect, Integrity, Delivering Beyond Expectations and Enjoying it), staff members of Keenpac immersed Birmingham City Centre on 9th September to launch a 'treasure hunt' styled event, involving key retail stores in the Bull Ring, Grand Central and Square shopping centres. The stores visited were invited to take part in a packaging questionnaire – all in the name of market research!
Following the event, we entered all stores into a prize draw, from which we selected a winning store. The winner was [cue drum roll….] Build-A-Bear Workshop based in the Bull Ring (www.buildabear.co.uk). Store Supervisor, Maria Doggett, was delighted to receive a fantastic hamper personally delivered by Keenpac's Kyle Nash Build-A- Bear's account manager.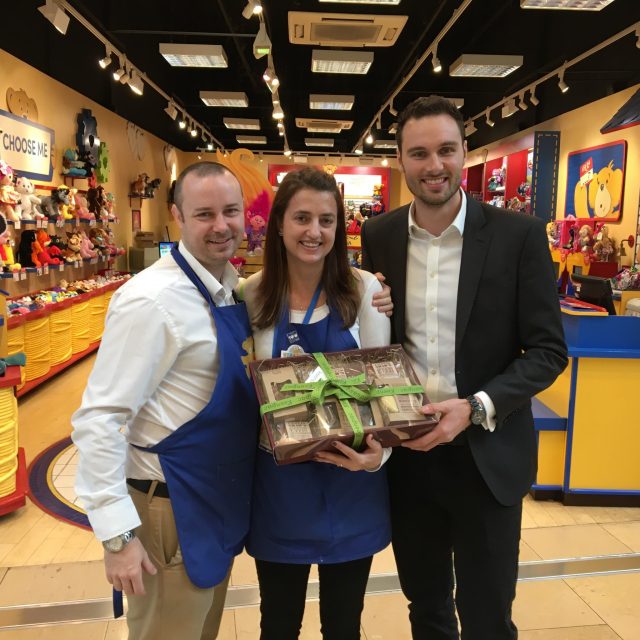 A very big thank you to all the stores that participated in our questionnaire – we really appreciate your time!
More Packaging News…
Keenpac upgrade their warehouse lighting
Keenpac supports students on the Fashion Buying Degree at De Montfort University…
Keenpac fundraise for Loros Hospice
Donating unwanted office furniture to local Academy
LOROS fundraising by the Keenpac team
David Kerr : The man who holds the key to Keenpac's packaging product samples
The Law of Unintended Consequences and Plastic Bag Levy
Brand New Keenpac
Keenpac Reveal Results of Brand Refresh
Article Categories
Bespoke Packaging
Brand Packaging
Jewellery Packaging
Luxury Packaging
Multi-channel
Online Packaging
Packaging Creative
Packaging Design Ideas
Packaging News
Packaging Solutions
Point of Sale Packaging
Retail Packaging
Sustainable Packaging