Keenpac Chooses Charity
Last Updated on Sunday 02nd Jul 2017
In support of the Charity Retail Association's Choose Charity Shops Campaign, which launched on 14th May,  Keenpac ran its own mini campaign, encouraging staff to bring in their clothing, books, videos or dvds, so that we could donate them to a good cause.
Using the Take That song as its inspiration, the campaign was entitled 'Back for Good', and received an impressive amount of support from the Keenpac team, who brought in their unwanted items, and completely filled one of our enormous archive boxes.
At the end of the campaign, the entire contents of the box were donated to Keenpac's local British Heart Foundation shop on Silver Street, Leicester.   Unfortunately Gary Barlow & Co, weren't able to be there in person, but Keenpac's Steve Hunt, was able to stand in at the last minute and I think, filled their shoes admirably!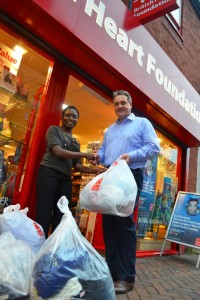 More Packaging News…
Keenpac upgrade their warehouse lighting
Keenpac supports students on the Fashion Buying Degree at De Montfort University…
Keenpac fundraise for Loros Hospice
Donating unwanted office furniture to local Academy
LOROS fundraising by the Keenpac team
David Kerr : The man who holds the key to Keenpac's packaging product samples
The Law of Unintended Consequences and Plastic Bag Levy
Brand New Keenpac
Keenpac Reveal Results of Brand Refresh
Article Categories
Bespoke Packaging
Brand Packaging
Jewellery Packaging
Luxury Packaging
Multi-channel
Online Packaging
Packaging Creative
Packaging Design Ideas
Packaging News
Packaging Solutions
Point of Sale Packaging
Retail Packaging
Sustainable Packaging