Fashion Packaging | British Fashion Brand, Paul Smith
Last Updated on Wednesday 20th Dec 2017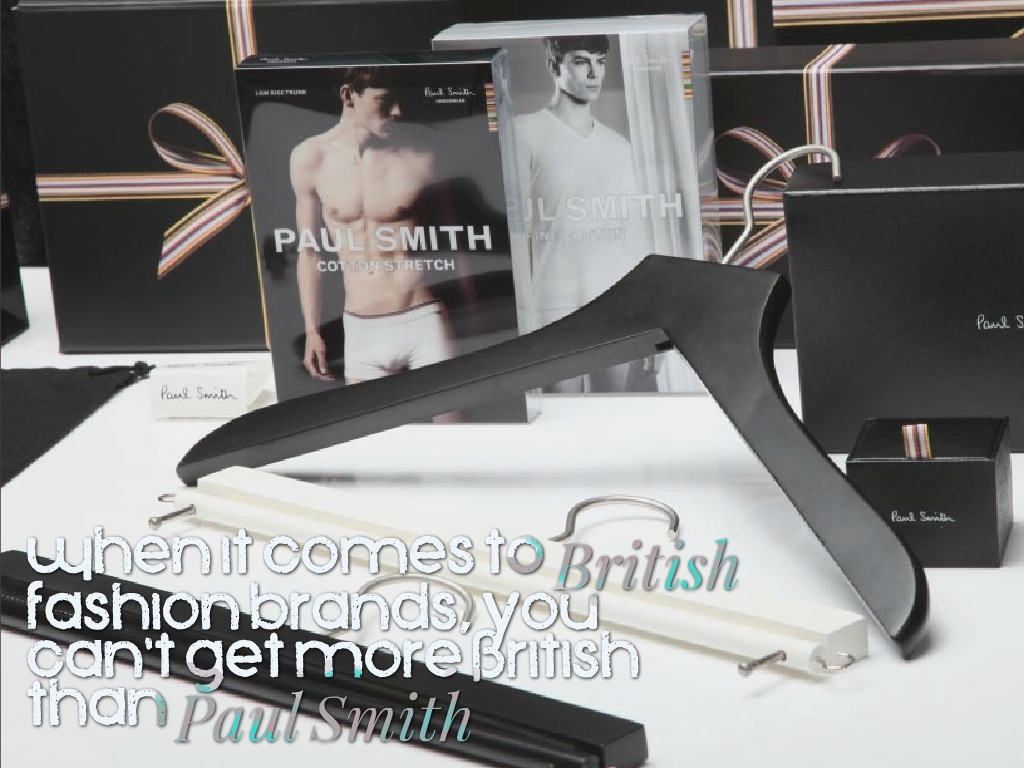 British Fashion Brand: Paul Smith
The now world famous luxury brand started from humble beginnings in Nottingham, where Paul Smith opened his first tiny boutique in 1970.
By 1976, working alongside wife Pauline Denyer, an RCA fashion graduate, Paul had launched his very first menswear collection in Paris, under the Paul Smith name.
Today, the brand has become synonymous with all that's great about Britain, tapping seamlessly as it always has done into popular art, culture and music. It's a side to the brand that Paul Smith himself has always been keen to foster, reflecting his own personal interests and lifestyle; "an unmistakable Englishness augmented by the unexpected" as his website says.
Keenpac's own relationship with the designer brand began in the early eighties at a time when braces and shoulder pads were still enjoying their moment in the spotlight. Since then a great deal has changed. The brand now has 12 different collections and is known the world over, with stores in London, Nottingham, Paris, Milan, New York, Hong Kong, Singapore, Taiwan, the Philippines, Korea, Kuwait, U.A.E. – and over two hundred throughout Japan.
The job of keeping up with the various twists and turns the brand has taken through its packaging is the responsibility of Keenpac's Business Development Manager, Lou Coulson. There are over 100 different packaging lines to manage; from retail bags to product packaging, as well as gift boxes, tissue, ribbon and other packaging accessories, covering the various Paul Smith clothing brands; Paul Smith, Paul Smith Women, PS by Paul Smith, Paul Smith Jeans, and Paul Smith London.
This year, the packaging underwent a radical makeover, bravely moving away from its famous multi-coloured stripe and swirl, to a classic black. It has taken more than 12 months to achieve the final look, a deep black, embossed finish with the Paul Smith logo subtly added. The paper used for the range was created specially to achieve just the right depth of black, and finished with a glossy sheen that glistens when the bag catches the light.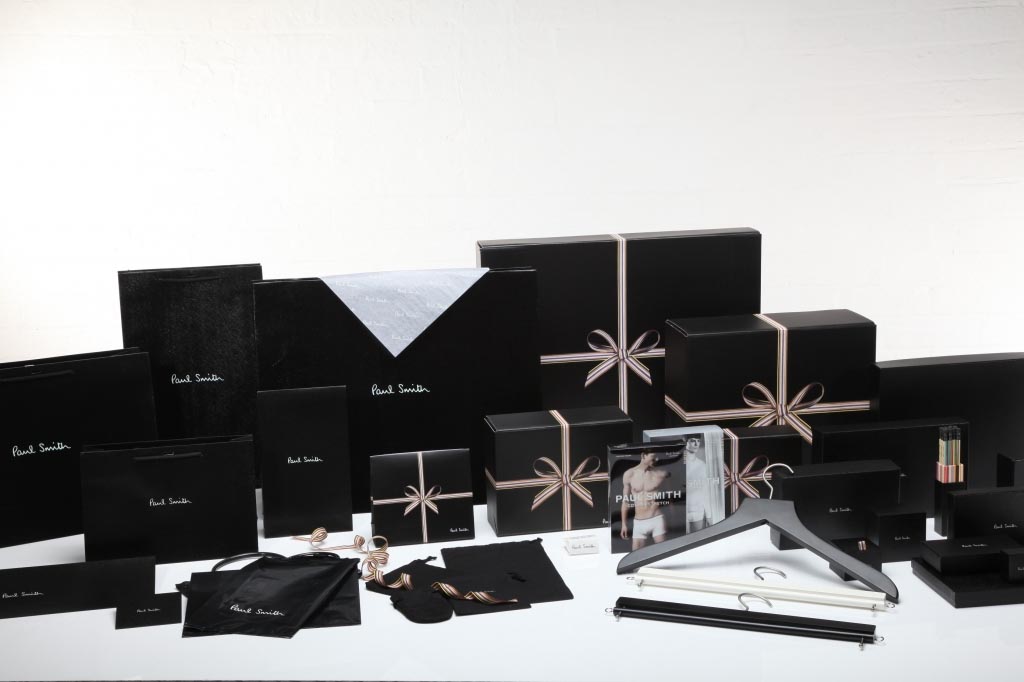 An essential requirement for a global company like Paul Smith is the centralising of its global retail packaging supply. A complex product range, combined with a diverse supply chain, can prove problematic if not well-managed. For Paul Smith, Keenpac manages stock levels and worldwide distribution through its various offices.
Playing a key role in this, is Keenpac Asia, who oversee the distribution in countries like Japan,
Korea and China, where Paul Smith has a strong presence. Our total management approach has helped us plan manufacture much more precisely, and enables significant cost-savings to be achieved.
It's a partnership Keenpac is looking forward to maintaining as Paul Smith continues to expand
its operations throughout the world.
Paul Smith Packaging Profile
Over 35 Countries Worldwide
14 Shops in England
200 Shops in Japan
Showrooms in London, Paris, Milan,
New York and Tokyo
Circa 100 Packaging SKU's
16 Accounts Globally
Regional Account Management
Forecasting, order processing and accounting performed by Keenpac UK, US and Asia
More Brand Packaging Articles…
Branded Packaging | Biba Clothing Range
Brand Packaging | Luxury Packaging for New Look Savoy
Kendals 175 Years Carrier Hits the Mark with Shoppers
Branded Carrier Bags | New Bags Please!
Branded RPET Shopper | On the 'Bag' Screen
Product Packaging Design | Keenpac gives Rigby & Peller a Perfect Fit
Point of Sale Design | Linking up for the Olympics
Packaging Designers | The Savoy's Tea Shop
Gift Box Design | Lip-Smacking Packaging Sephora
Fashion Packaging | British Fashion Brand, Paul Smith
Personalised Carrier Bags | Packaging created for White Stuff
Retail Gift Boxes | Brand packaging created for l'Artisan Parfumeur
Packaging Designs | Accessorize celebrates their 30th Birthday
Perfume Packaging | Turning a distinctive concept into a packaging reality
Event Packaging | Beautiful Gift Bags for French Open
Eco Packaging Supplier | Timberland Earthkeepers 2014 Fall Collection
Carrier Bag Design | Oasis 'Loved by Mollie' Collection Brand Packaging
Brand Packaging | Coast launch their Spring, Summer Carrier Bag
How Promotional Bags Can Boost Your Brand
Kraft Carrier Bags | Oasis V&A Brand Packaging
Special Edition Carrier Bags | Brand Packaging for Links of London
Carrier Bag Designer | Oasis : Getting Carried Away for Christmas
Brand Packaging Designer | Christmas carriers for Paul Smith
Retail Bags | Magical hat bag complements Benefit Cosmetics launch
Packaging Inspiration | New look for Penhaligon's
Exclusive Packaging Design | Hobbs Sparkles this Christmas
Retail Packaging Suppliers | New bespoke festive bags for House of Fraser
Product Packaging Supplier | British beauty brand Nior London
Personalised Packaging | Luxury Packaging Design for Lani Collection
Brand Packaging Designs | Detox Packaging for Bodyism
Packaging Design Projects | A life-sized Build-A-Bear condo for MCM London Comic Con
Article Categories
Bespoke Packaging
Brand Packaging
Jewellery Packaging
Luxury Packaging
Multi-channel
Online Packaging
Packaging Creative
Packaging Design Ideas
Packaging News
Packaging Solutions
Point of Sale Packaging
Retail Packaging
Sustainable Packaging