Exclusive Packaging Design
Last Updated on Saturday 09th Dec 2017
Hobbs Sparkles this Christmas
Keenpac has unveiled bespoke Christmas packaging for leading ladies fashion label, Hobbs.
We have worked closely with the Hobbs packaging development team for the last 10 years and throughout this time has supported the business in presenting unique and stylish packaging that resonates with the high value status of the brand.
From conception in March through to delivery in September, we have managed the complete design and production process of the new boxes. A portfolio consisting of eight flat-pack one piece boxes, a flat-pack candle box and six rigid two piece boxes have been developed and will be used at point-of-sale, in-store and for online purchases to present a range of products including purses, socks, gloves, scarves, jewellery and candles.
The stock has been made from Brilliant White with 100% emboss. To capture the 'magical sparkle' of Christmas, stars have been printed gold and then embellished with gold foil. The Hobbs logo and website address is also foiled in gold. This glossy touch adds to the elegance of the boxes whilst conveying a subtle and sophisticated festive feel.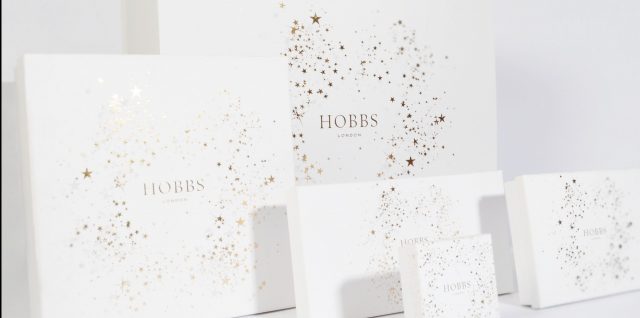 Account Manager Natalie Gyte said: "The Hobbs Christmas boxes have been an exciting project for Keenpac. Our design team worked on a few conceptional ideas with first samples being layered art work – this soon became problematic to foil due to the multiple layers. Revisions were made to the design and the final version was completed and delivered in September, ready for the festive shopping season. We had a short production period of just 6 – 8 weeks and a 6-week shipping lead-time, but the whole process was delivered with efficiency and care and Keenpac, as well as Hobbs, are extremely pleased with the final packaging."
More Brand Packaging Articles…
Branded Packaging | Biba Clothing Range
Brand Packaging | Luxury Packaging for New Look Savoy
Kendals 175 Years Carrier Hits the Mark with Shoppers
Branded Carrier Bags | New Bags Please!
Branded RPET Shopper | On the 'Bag' Screen
Product Packaging Design | Keenpac gives Rigby & Peller a Perfect Fit
Point of Sale Design | Linking up for the Olympics
Packaging Designers | The Savoy's Tea Shop
Gift Box Design | Lip-Smacking Packaging Sephora
Fashion Packaging | British Fashion Brand, Paul Smith
Personalised Carrier Bags | Packaging created for White Stuff
Retail Gift Boxes | Brand packaging created for l'Artisan Parfumeur
Packaging Designs | Accessorize celebrates their 30th Birthday
Perfume Packaging | Turning a distinctive concept into a packaging reality
Event Packaging | Beautiful Gift Bags for French Open
Eco Packaging Supplier | Timberland Earthkeepers 2014 Fall Collection
Carrier Bag Design | Oasis 'Loved by Mollie' Collection Brand Packaging
Brand Packaging | Coast launch their Spring, Summer Carrier Bag
How Promotional Bags Can Boost Your Brand
Kraft Carrier Bags | Oasis V&A Brand Packaging
Special Edition Carrier Bags | Brand Packaging for Links of London
Carrier Bag Designer | Oasis : Getting Carried Away for Christmas
Brand Packaging Designer | Christmas carriers for Paul Smith
Retail Bags | Magical hat bag complements Benefit Cosmetics launch
Packaging Inspiration | New look for Penhaligon's
Exclusive Packaging Design | Hobbs Sparkles this Christmas
Retail Packaging Suppliers | New bespoke festive bags for House of Fraser
Product Packaging Supplier | British beauty brand Nior London
Personalised Packaging | Luxury Packaging Design for Lani Collection
Brand Packaging Designs | Detox Packaging for Bodyism
Packaging Design Projects | A life-sized Build-A-Bear condo for MCM London Comic Con
Article Categories
Bespoke Packaging
Brand Packaging
Jewellery Packaging
Luxury Packaging
Multi-channel
Online Packaging
Packaging Creative
Packaging Design Ideas
Packaging News
Packaging Solutions
Point of Sale Packaging
Retail Packaging
Sustainable Packaging