Branded Carrier Bags | New Bags Please!
Last Updated on Wednesday 21st Jun 2017
On this, the 125 anniversary of the world famous Wimbledon Tennis Championships, Keenpac has served up a stunning range of branded carrier bags. Two sizes of rope handled duffle bags, a medium-sized drawstring bag plus a small punched-out handle carrier to complete the set, which we're sure all visitors to Wimbledon are just going to love.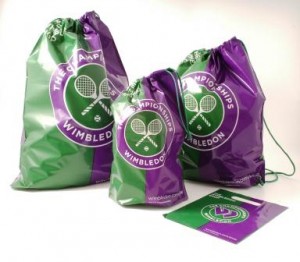 More Brand Packaging Articles…
Branded Packaging | Biba Clothing Range
Brand Packaging | Luxury Packaging for New Look Savoy
Kendals 175 Years Carrier Hits the Mark with Shoppers
Branded Carrier Bags | New Bags Please!
Product Packaging Design | Keenpac gives Rigby & Peller a Perfect Fit
Point of Sale Design | Linking up for the Olympics
Packaging Designers | The Savoy's Tea Shop
Gift Box Design | Lip-Smacking Packaging Sephora
Fashion Packaging | British Fashion Brand, Paul Smith
Personalised Carrier Bags | Packaging created for White Stuff
Retail Gift Boxes | Brand packaging created for l'Artisan Parfumeur
Packaging Designs | Accessorize celebrates their 30th Birthday
Perfume Packaging | Turning a distinctive concept into a packaging reality
Event Packaging | Beautiful Gift Bags for French Open
Eco Packaging Supplier | Timberland Earthkeepers 2014 Fall Collection
Carrier Bag Design | Oasis 'Loved by Mollie' Collection Brand Packaging
Brand Packaging | Coast launch their Spring, Summer Carrier Bag
How Promotional Bags Can Boost Your Brand
Kraft Carrier Bags | Oasis V&A Brand Packaging
Special Edition Carrier Bags | Brand Packaging for Links of London
Carrier Bag Designer | Oasis : Getting Carried Away for Christmas
Brand Packaging Designer | Christmas carriers for Paul Smith
Retail Bags | Magical hat bag complements Benefit Cosmetics launch
Packaging Inspiration | New look for Penhaligon's
Exclusive Packaging Design | Hobbs Sparkles this Christmas
Retail Packaging Suppliers | New bespoke festive bags for House of Fraser
Product Packaging Supplier | British beauty brand Nior London
Personalised Packaging | Luxury Packaging Design for Lani Collection
Brand Packaging Designs | Detox Packaging for Bodyism
Packaging Design Projects | A life-sized Build-A-Bear condo for MCM London Comic Con
Article Categories
Bespoke Packaging
Brand Packaging
Jewellery Packaging
Luxury Packaging
Multi-channel
Online Packaging
Packaging Creative
Packaging Design Ideas
Packaging News
Packaging Solutions
Point of Sale Packaging
Retail Packaging
Sustainable Packaging